🠈 CVS Health Corporation 🠊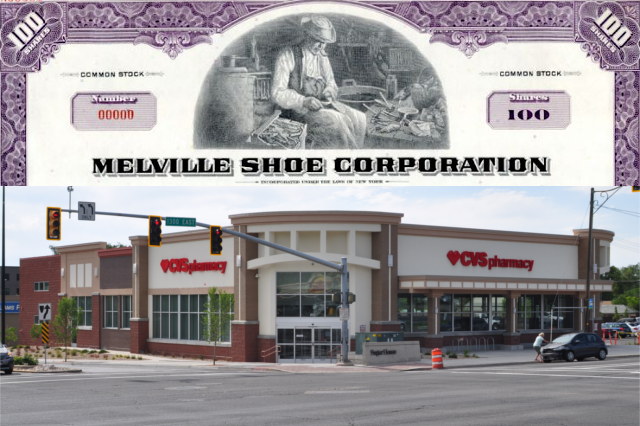 CVS in Sugarhouse by me. The stock certificate image came from
Scripophily.net
.
CVS Health Corporation
CVS Health Corporation is a huge health care firm that owns CVS Pharmacy. The company is headquartered in Woonsocket, RI and trades on the NYSE with the symbol CVS.
the company has 240,000 employees with roughly 10,000 locations. Many of the stores are located in Target Stores. The site CVS Pharmacy Realty has information on real estate opportunities with the firm.
Advertisements: CVS Photo offers same day custom photo printing. They also offer photo books, canvas prints and personalized items
. Buy Giftcards for CVS online.
Corporate History
This section will piece together some of the acquisitions in this company's history.
1892: Ward Melville started Melville Shoe Corporation in Harrison, New York.
1922: Ward Melville incorporated as Melville Corporation based in Rye, NY. The shoe store grew to over 3,500 locations.
Melville opened the Thom McAn store which sold the Thom McAn brand developed by his store
1962: Melville created the division Meldisco to provide shoe stores in newly formed K-Mart stores.
1969: Melville acquired Consumer Value Store (CVS)

1963: brothers Stanley and Sidney Goldstein along with Ralph Hoagland created Consumer Value Store in Lowell, Massachusetts.
1967: CVS added a pharmacy counter.

1972: CVS acquired Indiana based Clinton Drug and Discount Stores which had 84 stores.
1976: Melville acquired Marshalls which had 32 department stores in New England for $40 Million.
1977 CVS acquired the New Jersey-based Mack Drug chain which had 36 stores.
1981: Melville acquired Kay-Bee Toys which they intended to expand nationwide.
Melville acquired Linens 'n Things from its founders with intention of creating a national chain.
1990: Melville acquired Bob's Store which sold sporting goods. It expanded the chain from 5 to 34 stores.
1990: CVS acquired Rix Dunnington which had 23 stores.
1990: CVS acquired Peoples Drug from Imasco for $330 million

History of Peoples Drug

Peoples Drug was created as a merger of Lane Drug and Peoples Drug

1922: Lane Drugs was founded in downtown Toledeo
1938: K-W Drug Company of Cleveland acquired Lane's which had 6 stores.
1956: A.C. Israel Commodity Company of New York acquired the company.
1970-1972: Lane had 106 stores. It established a relation and merged with Schuman Drug which had 25 stores. They relocated to Toledo.
1976: Lane's acquired People's Drug Stores which had just engaged in a rapid expansion to 500 stores. Lane's changed its corporate name to People's Drug.

1905: Peoples Drug was founded by Malcolm Gibbs in Alexandria, Va.

1984: Imasco acquired Lane's from AC Israel for $320 million.
1989: Rite-Aid acquired 114 stores that were still branded as Lane's
1994: CVS retired the Peoples Drug in 1994.

199?: Melville acquired FootAction

Founding of FootAction

1976: Charles Cristol and friends created a shoe store called Webmit (We Better Make It) which they changed to FootAction.
1990: Chain had 100 stores and $50M in sales.
199?: FootAction acquired Marvin's Sports City based in Baltimore.

Melville decided to reorganize and concentrate on its pharmacy division, eventually changing its name to CVS Pharmacy
1995: CVS sold the greatly expanded Marshalls to TJX Companies.
1996: Linens 'n Things held a successful IPO with the symbol LNT.
1996: Melville created FootStar for its shoe holdings:

FootStar's Fate

FootStar held the shoe assets of Melville including Thom McAn, FootAction and Meldisco.

1996: FootStar closed many of the 500 remaining Thom McAn stores and converted the rest to FootAction.
2000: FootStar acquired the bankrupt Just for Feet chain

Just for Feet History

1977: Just for Feet began as Two Feet Ahead in Birmingham, Al.
1999: The company was growing rapidly. Their 1999 Superbowl commercial was considered culturally insensitive.
2000: Just for Feet filed for bankruptcy.

2004: FootStar files chapter 11. Foot Locker acquired FootAction.
200?: Meldisco was gradually absorbed into KMart.

1996: Melville sold off This End Up
1996: Melville sold Kay-Bee Toys to Consolidated Stores.
1997: Store managers with the aid of Citicorp Venture Capital acquired Bob's Store.
1997: CVS bought the 2500 chain store called Revco Discount Drug Stores

Revco History

1945: Bernard Shulman hired Sidney Dworkin to help at Regal Drug.
1956: They created Registered Vitamin Company to be a model for a discount drug store.
1961: Revco acquired 41 store Standard Drug Co..
1964: Revco held an IPO and used the money for expansion
1965: Revco acquired 52 store chain called Gallaher Drug Co.
1968: Revco acquired Ryan-Evans which had 47 stores in Arizona.
1970: Revco acquired Cole Drug Co. which had 28 stores in Alabama and Georgia.
1972: Revco acquired Private Formulations Inc. which manufactured vitamins.
1972: Revco acquired White Cross which had 163 stores.
1972: Revco held a second public stock offering of 675,000 common shares.
1974 Revco acquired Jacobs, a the 25-store, from Read's Inc..
1976: Revco acquired an 11 store chain called Cook United in Ohio. The FTC force modifications to assure competition in Ohio.
1977: Revco acquired the 16 store chain called Elliott. The chain crossed the 1,000 store threshold the next year.
1978: Revco began aggressive construction of stores and added Foto-Stops
1980 Revco purchased the May's chain which had 20 store, Sav-Rite chain which had 8 stores.
1980: The US Justice department forced Revco to sell some stores in Texas after its acquisition of Skillern Drug which had 145 stores.
1983: Revco had 2200 stores and $2.2 billion in sales. A lawsuit claimed its vitamins caused premature births and the company faltered.
1984: the vitamin E-Ferol was linked to 38 infant deaths.
1984: Revco tried to diversify with the purchase of the 66 store chain Odd Lot Trading Company for $113. This led to internal conflicts.
198?: Revco trademarks the Big Lots brand to expand Odd Lots.
1985 Revco acquired Carls Drug Co. which had 42 stores in New England. They added 185 new stores bringing its total to 2,041.
1986: Revco sold Odd Lots in an IPO.
1986: With the help of Salomon Brothers, Revco took the company private in a $1.16 billion stock buy back.
1986: sales slumped. Salomon took over the company.
1988: Revco filed chapter 11 to reorganize its debt.
Revco began selling pieces of its business to pay down dept.
1994: Revco acquired the 800 store chain Hook's/SupeRx drug

1900: John A. Hook established Hook's Drug Stores. They used the DBA SupeRX Drug Stores.
1988: Hook's acquired Brooks Pharmacy from Perelman's take over of Revlon.
1988: Revco sold most of the Brooks Pharmacy to the Jean_Coutu_Group.

1996: The FTC blocked Rite-Aid from acquiring Revco allowing it to be bought by CVS the following year.

1998: CVS acquired Michigan based Arbor Drugs which had 200 locations.
1999: CVS acquired online pharmacy soma.com and changed name to cvs.com
2004 CVS purchased 1,268 Eckerd Drug Stores and Eckerd Health Services from J. C. Penney.

History of Eckerd Drugs

Eckerd Drug was a large pharmacy chain that grew to 2,800 stores when it was part of JC Penney.

1898: Eckerd was founded by J. Milton Elkerd in Erie, Pa.
1910: His sons took over and expand firm.
1941: Jack Eckerd started QuikChek
1961: Company went public as Florida based Eckerd Drugs.
1968: Eckerd purchased J. Byron. J. Byron began in 1896 as Byron's Red Cross. It diversified from pharmaceuticals and renamed its store Byrons Department Store.
1970: Company changed its name to Jack Eckerd Corporation.
1985: Dart Group Corporation attempted a hostile takeover. Eckerd went private in defense.
1990: Eckerd acquired 220 Revco drugstores
1993: Eckerd sold 15% of stock in IPO.
1997: J.C. Penney Company, Inc. acquired Eckerd. Penneys merged Eckerd and Thrift Drug and rebranded the group as Eckerd. Penneys spun of several stores as Kerr Drug.
1999: Eckerd acquired a 141 store chain called Genovese Drug Stores based in NY.

2006: CVS participated in $17.4 billion deal with SuperValu and Cerberus to acquire Albertsons.

2006: CVS acquired 800 free standing drug stores including Osco Drugs and Save-On Drugs after the Albertsons/Supervalue merger.

2006: CVS acquired MinuteClinic. This firm was established by Dr Doug Smith in Minneapolis in 200 ast QuickMedx.
2007: CVS acquired CareMark Rx which offered a prescription management service.
2008: CVS acquired Longs Drug which had 541 stores.
2013: CVS formed a partnership with Cardinal Health called Red Oak Sourcing. This created the largest drug sourcing operation. (RedOakSourcing.com)
2014: CVS acquired Miami-based Navarro Discount Pharmacy which had 31 stores. CVS is keeping the name active

History of Navarro

1940: José Navarro, Sr. founded his pharmacy in Havana, Cuba.
1961: Castro confiscated the Navarro stores
José Navarro, Sr. started a new store in Miami.
MBF Healthcare Partners and formed partnership with Sedano's Pharmacy.

2015: CVS launced CVS Optical which offers optical services in select stores.7
2015: CVS acquired Omnicare

Omnicare History

Omnicare was a pharmacy which provided medicine in nursing homes.

1981: company was created as as a spinoff of Chemed and W. R. Grace and Company.
2005: Omnicare acquired NeighborCare Pharmacy which had split from Genesis Health Ventures.
2012: The FTC blocked an attempted hostile takeover of rival PharMerica.

2015: CVS acquired 1,600 in store pharmacies in Target stores as part of a store in a store strategy.
2018: CVS approved a $69 billion acquisition of Aetna which provides insurance.

History of Aetna

Aetna has a health network with over 22 million members.

1819: Merchants in Hartford, Ct established Aetna Fire Insurance Company which they named after the European volcano Mount Etna.
1853: The annuity department separated to become Aetna Life Insurance Company. The fire insurance eventually became part of Cigna.
1899: Aetna became first publically traded insurance company and began offering health insurance.
1960 - Aetna acquired the Canadian firm Excelsior Life Insurance Company
1971: Aetna acquired motor inns from Dunfey Hotels Corporation.
1976: Aetna sold its hotels to Aer Lingus.
1996: Aetna acquired U.S. Healthcare.
1998: Aetna acquired NYLCare Health Plans for $1.05 billion.
1999: Aetna acquired Prudential HealthCare for $1 billion.
2000: Aetna sold its financial services and international businesses to ING Group for $7.7 billion.
2000: Aetna spun off its health business to its shareholders.
2007: Aetna acquired Schaller Anderson which administered medicaid and CHIP plans.
2015: Aetna attempted to acquire Humana for US$37 b. The plan was blocked by judges.

2016: The OptumRX department of CVS formed a partnership with UnitedHealth Group to deliver pharmacy benefits.
Company Man made a video about the CVS acquistion string. Company Man failed to recognize that CVS was over-leveraged in its first years. The expansion is the result primarily of Melville.
References:
Directory Listings: